Portuguese ⇆ German Translations
Welcome from Ilaine Dis­tler & Equipe! As a professional translation office, we have been helping companies and private clients for many years with translations into Portuguese, German and English. Our main skills constitute interpreting, technical translations, languages formation and cross-culture to South America.
Professional Translations Portuguese & Brazilian Portuguese ↔ German and English
Since 1997, our translation office assures excellent translations into Portuguese, German and English to our clients from various sectors. We are a small team of autonomous experts directly connected into Brazilian and European Portuguese. For us, reliability and discretion are inherent to our activity. Our main skills consist in technical translation in the following languages combinations:
from German into Portuguese and Brazilian Portuguese
from Portuguese and Brazilian Portuguese into German
you need a translation in another language combination, for example from English into Portuguese or Brazilian Portuguese. We are your perfect contact.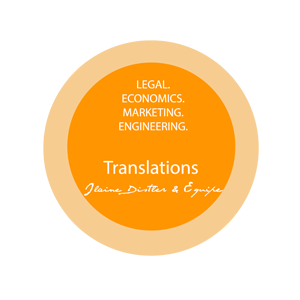 As a technical translations service, we are experts in different areas of knowledge - we not only possess the specific terminology needed, but also assure an expertise skill and translations with correct content into Portuguese, German and English.
Your objectives are great - we find the appropriate words!
Apart from that, we carry out certified translations from and into Portuguese, German and English to be presented before German and Portuguese-speaking authorities. More information »»
Portuguese & Brazilian Portuguese ⇆ German Interpreter
"The destiny of the world depends, in the first line, on statesmen, in the second line, on interpreters", stated Trygvie Lie, the first UN Secretary General. Due to a global network in the economics and politics, it is of great importance for your project's success a comprehension which transcends the limits of languages. As interpreting is more than just transmitting what is spoken from a language to another. Good interpreters represent your company with expertise and promote an efficient cross-cultural communication.
Ilaine Distler and her team are at your disposal as professional interpreters into Brazilian Portuguese all over Germany, Austria and Switzerland. We have an experience of many years as simultaneous and consecutive interpreters. It will be a pleasure to provide consulting about what is the correct interpreting technique for your event. More information »»

Complete first class package with Ilaine Distler
Through direct and reliable cooperation with a broad team of international experts in their respective areas of knowledge, our location at Regensburg is linked to any part of the world. Ilaine Distler is frequently in her home country, Brazil.
Thanks to Ilaine Distler great experience of many years as an interpreter and translator into Portuguese and German, and her qualification as Cross-cultural Premium Trainer for Brazil, Germany and Latin American, we offer high quality services around language and cross-cultural comprehension. We build bridges between Germany and South America.
We join our clients for many years with experience, expertise and discretion. Convince yourself reading our clients testimonies.
We would be glad to assist you!
Do you wish a budget or have any doubts?
It is just an e​mail or a phone call away. It will be a pleasure to help you.
Translations | Interpreting | Training
Lilienthalstraße 46
93049 Regensburg
Germany
☎ + 49 941 3995559 (Office)