Technical Translations in Portuguese and Brazilian Portuguese
Technical Translations in Portuguese and Brazilian Portuguese
As a translation specialized office with many years of professional experience, we translate your technical texts from and into Portuguese (Brazilian Portuguese) in an impeccable manner, from a linguistic as well technical perspective. All translations are done by native translators into their respective language.
Technical Translations into Portuguese - Work your way to your success
Do you have to translate a service's instruction, a manual or some documentation into Brazilian Portuguese? Ilaine Distler & Equipe makes technical translations in various areas of expertise.
Catalogues, brochures, parts lists, assembling instructions and other technical texts: We are content skilled and have an adequate expertise terminology for the various technical areas For us it is not enough to deliver a correct translation – we adapt our language style to the user and facilitate the comprehension of technical texts in the core of their target group.
Our languages and areas of expertise
We offer professional technical translations in the following languages:
► German ⇆ Portuguese
► German ⇆ Brazilian Portuguese
► English ⇆ Portuguese
► English ⇆ Brazilian Portuguese
► French → Brazilian Portuguese
► Spanish ⇆ Portuguese
► Spanish ⇆ Brazilian Portuguese
Through our translators expertise in specific areas, we assure the high quality that you and we seek. Our areas of expertise include, for example, the automotive industry, the mechanic engineering, as well as medicine and pharmaceutics. However, our technical translators into Portuguese will be glad to help you in the projects you have in other areas. Our terminology management capacity allows us to meet your company needs and assures a consistent use of your specific vocabulary – so, we can obtain a great recognition next to your clients.
Our translation office – perfect translations are a team's job
Our network is not made by hundreds of anonymous translators who translate into all languages, but a well structured and interconnected expertise team that considers translation a learnt art. As a translation office, we work always in direct contact with our clients.
Our guidelines: Because technical translations are a question of confidence
The present and professional skills
By regularly participating in seminars and training courses, we constantly improve our professional skills as technical translators, becoming apt to serve high quality standards and strict deadline demands.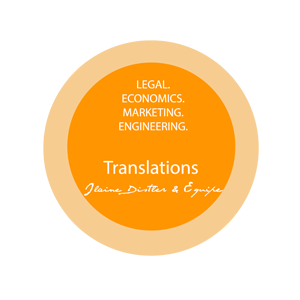 Contacts and a great Network
We work for economic, industry, medicine, research and legal representatives. In cases which require a lot, we use our great network of experts to find the right words for your success.
Reliability and discretion
We meet predetermined deadlines. Discretion is our greatest duty regarding our clients! Professionalism generates trust – it is the basis for a successful business relationship.
Translations into Portuguese: Request your offer now!
Many clients are already very satisfied with our technical translations. And you, would you like to be convinced about our skills? Do you wish an offer or have any questions?
You can call. We will be glad to assist you!
Do you need a certified translation for a German or Portuguese Public Department? Contact us and we can help you out.