Translation of documents for marriages - papers for Brazilian marriages
Your love does not know frontiers - however, a marriage between Brazilian and German couples is not possible without administrative commitment. We are glad to help you in all formalities, for you to concentrate in what is essential: in love and starting a happy marriage. As certified translators, documents and certifications translated by us are officially recognized all over Germany.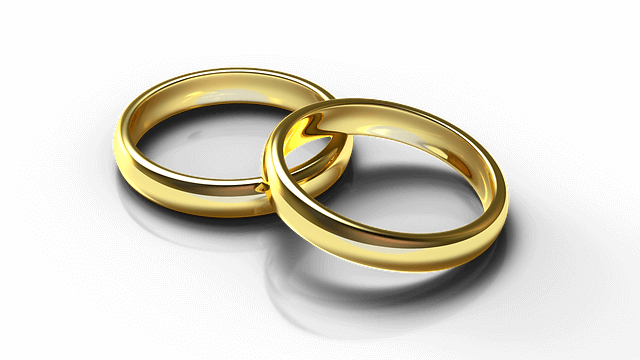 Brazilian documents translations for a marriage in Germany
Following, we compile the most important tips for a marriage's planification occur without complications. If you prefer, we can also assist you personally, or send you a translation offer for your documents. It is only an email or phone call away. We are glad to assist you.
Which documents need to be translated?
According to our experience of many years, the following Brazilian documents are needed to conduct a marriage of a Brazilian-German couple.
Birth Certificate with Apostille
Marital Status Certificate with Apostille
Marital Status Statement (notary or under oath) with Apostille
Additionally, less frequently it is demanded a proof of income and residence
If the groom or the bride is divorced, the Decree of Divorce, as well as the Public Deed of Divorce by Mutual Consent are also needed.
What do you shall observe in the issuance of documents and in the translation?
Before ordering a Portuguese into German translation, you must request your civil registry a detailed list of the documentation needed.
Official recognition in all Germany
Birth Certificate
(Certidão de Nascimento)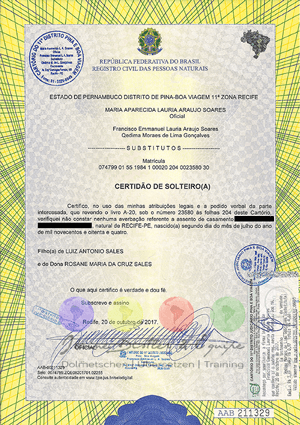 Marital Status Certificate
(Certidão de Solteiro)
Marital Status Statement
(Declaração de Estado Civil)
Haager Convention Apostille
(Apostila de Haia)
Which deadlines you shall observe?
Some civil registry offices in Germany only accept original documents with a date inferior to 90 or 180 days. Therefore, before request in your civil registry office, ask how long the issuance date of the documents is valid. A good time management is important, especially when the bride or the groom need a marriage visa. We assure a quick deliver of translations and total reliability regarding the agreed deadlines.
What is an Apostille?
Since 2016, a Haager Apostille is needed in transporting documents between Germany and Brazil. It confirms the document's authenticity to be used abroad, and in Brazil it is issued by notary offices. In Brazil, apostilles are applied to original documents. [Link for the central register of apostilles in Brazil] As we are officially recognized translators, our translations don't need to be certified.
Certified translations of your documents into German
In the quality of certified translators, Ilaine Distler and her team carry out officially recognized translations from and into Brazilian Portuguese. You can request a translation for your documents with just a few steps. We have already had the opportunity to help a great number of bi-national couples in the formalities needed for their marriage in Germany. We assure professional and formally corrected translations, as well as a great personal consulting. We dedicate our time to you and your interests.